Community Stuff 6/6/17
ESSEX MERCHANTS GROUP ANNOUNCES BEST OF ESSEX ONLINE AUCTION
Essex Merchants Group is excited to announce its Best of Essex Online Goods and Services Auction. The auction will go live on Monday June 5th and run until 10:00 PM on Monday June 19th, 2017.
Participants will have the opportunity to bid on over 120 items donated by Essex friends and businesses.
Items include gift certificates from the town's restaurants and many of its antique shops. Bid on fine art, specialty gift baskets, marine goods, landscaping and carpentry services, concert tickets, museum memberships and more. Fishing charters and cruises on the Essex River are well represented.
Some of the other highlights are a sculpture by Chris Williams; oil paintings by local artists, Teri Eramo of Eventide Fine Art Gallery, Kim Thayer of Thayer Art, Robert Hanlon of Walker Creek Furniture and Art Gallery and Marcia Savory of Savory Scenes; crab cakes and Caesar salad from Timothy Hopkins Catering and Cogswell's Grant tickets to Herrmann's Royal Lipizzan Stallions.
Beginning June 5th, follow this link to the auction www.essexmerchantsgroup.schoolauction.net/auction2017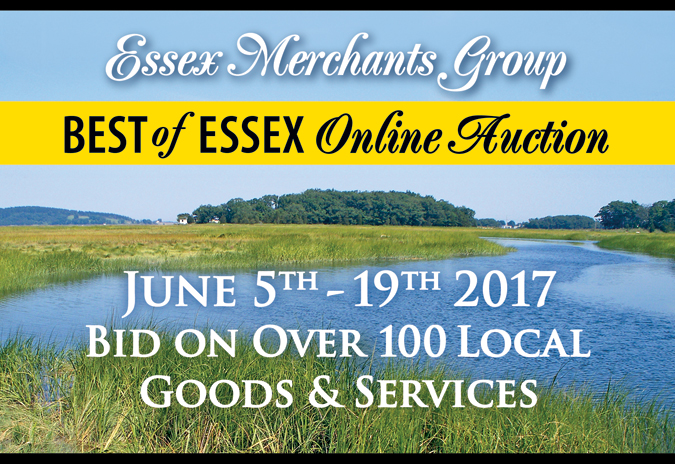 Welcome! Click Catalog to view the auction items.
Click on the picture of the item for a larger view.

Login or Sign Up to start bidding! Bidding closes at 10pm Eastern Time on June 19th!
---
Not a member yet? It's easy to join. For more information, see our website at http://www.sandybay.org
---