My obsession with the Lobster Roll started when I moved here and after a few trips to Maine. I have truly found some flawed rolls and pointed them out to you the readers, but lets look at two people doing really cool things with the Lobster Roll. Negativity no more – It's Christmas!
Red Hook Lobster Pound DC – The Lobster Pound, in the Red Hook section Brooklyn, spun off a food truck in the Washington DC market that looks like it is putting out some quality rolls. They tweet their location and their customers follow in large numbers. The prices seem fair for the market.
The Lobsta Truck LA – LA owns the food truck movement right now and big is not the word. Of course they have the Lobsta Truck. They post a schedule on their web site and hit all the big movie studios for lunch. They are doing an $11 roll in California, which to me is shocking. It's 30 bucks for fresh air in LA.

You can even Download a cut out of their Lobsta Truck.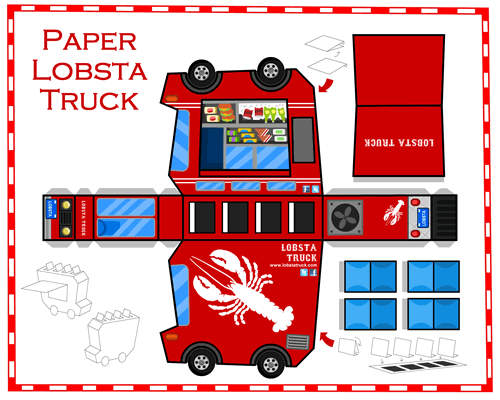 Both of these trucks put out the Maine and Connecticut (AKA Long Island) version of the roll. I know we all prefer the Maine style, but I know people like warm butter with their lobster so I can't knock them for that.

Why is there no Boston based truck? I bet Gloucester could support one of these during the summer months. It is my dream to own a food truck. If anyone wants to back me with a large cash investment, I will do the following:
Buy this Lobster and place it on top of a food truck
Get Lobsters from Captain Joe & Sons
Use the Mrs Recipe (licensed of course)
Find someone to get up early to do the work!
Enjoy the Holidays  and stay tuned for the readers poll for the best Lobster Roll on the North Shore – Patrick